Return to Index
Your happily ever after starts here – The Shore Club Turks & Caicos
June 27, 2022
The Shore Club Turks & Caicos is a precious gem sitting on an absolutely gorgeous stretch of pristine beach on an idyllic island so beautiful it seems surreal. It is incredibly romantic and perfectly suited for your exclusive wedding with just the right amount of pampering for brides and wedding guests. The Shore Club is set on Long Bay Beach, the most private stretch of Providenciales, offering the best of both worlds – a stunning, secluded beach just minutes away from Provo's town center.
The Shore Club has a dedicated wedding team, and we only ever do one wedding per day – so that the bride (and groom) receives the 100% attention that they deserve.  Every wedding is a big deal to us and we do not rest until every single detail is perfect, and exactly the way the bride (and groom) has envisioned.
Another feature that sets The Shore Club apart is our private villas.  We have 5 private, stand-alone luxury villas that are part of our resort property.  The villas provide so many benefits for wedding parties:
Walk straight out the backdoor, onto the beach for your ceremony
Enormous gardens and great rooms provide ideal reception locations
Expansive dining areas are perfect for pre and post wedding gatherings
Chef's staging areas in the basement provide completely private areas for the staff to prepare your parties.
Each villa come with 6 bedrooms. In laws and VIP guests can have their own villas.  Additional guests can stay right at the resort with the wedding party in the hotel suites.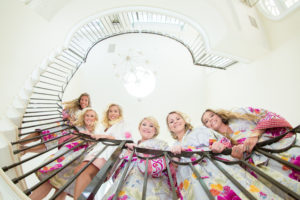 Some great wedding packages include wedding planner services for the entire wedding party; ceremony location; Officiate, affidavits / processing fees; transfer to apply for license and marriage documentation. Each can be completely customized using one of the base packages below:
Let's Do It (Elopement) – perfect for couples desiring the romance, spontaneity and the excitement of eloping. What separates this package from traditional destination weddings is that a bride and groom can simply arrive at the resort with no pre-planning or wedding party and we can still give them the wedding of their dreams
Intimate Ceremony – ideal for couples looking for a traditional beach wedding for up to 20 guests, with all the romance and none of the stress. Package extras include background music and group ceremony set up and coordination.
Unlimited Ceremony – the ultimate destination-wedding package is for more than 20 guests. The package features private transfers, hair and make up for the bride, expanded ceremony design and set up, photography, and live music.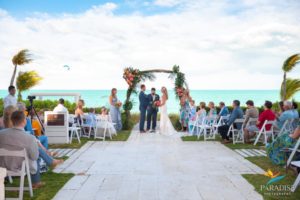 Why Couples and Guests Love Turks & Caicos
There are so many reasons why the Turks and Caicos Islands are a go-to destination wedding location for couples. The top reasons include the islands' year-round tropical weather, the awe-inspiring white-sand beaches, the vibrant culture, the delicious food and friendly locals.
Turks & Caicos is also an easy destination to travel to—weekly direct flights arrive from various cities in the United States, Canada and the United Kingdom.
And finally, the most fun and most beautiful Trash the Dress photoshoot!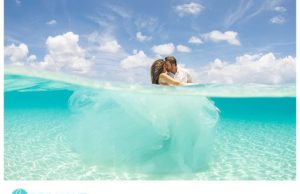 Legal Weddings vs. Symbolic Weddings
For destination weddings, couples typically have two options. First, they can get legally married in the region where they're having their wedding. With this option, however, there are legal documents, procedures and fees required.  Alternatively, couples can have their civil ceremony in their home country and have a symbolic wedding on their big day.
Required Legal Documents
Getting legally married in Turks & Caicos is relatively simple. All couples will need to submit a certified copy of both partners' birth certificates, passports, bio page and immigration cards. If either party was married before, they will need a notarized copy of the divorce decree. And if they were never married before, they will need to complete an affidavit of non-impediment and have it notarized in their home state.  Both parties must be present in the Turks and Caicos Islands for at least 24 hours before the license application can be made. The ceremony can take place 48 hours after the license is granted.  See full details here: https://www.visittci.com/weddings/legal-requirements
To make the wedding planning process as seamless and hassle-free as possible, it is highly recommended to work with a wedding planner who is familiar with planning weddings on the islands and can handle all of the logistics for you. Timeline-wise, it is recommended to reach out a year in advance for a larger wedding and three to six months out for small and intimate ceremonies. 
When you're planning your wedding budget, it's important to factor in legal fees as well. If you're working with a wedding planner, the cost of the application process and marriage license may be factored into the cost of the wedding package. It is a one-time payment, and the wedding planner and officiate are the only people who can assist with processing the license.
All in all, TCI will create a dream come true experience that will give you memories to last a lifetime.  Plus you will have the perfect destination to create a family tradition to come back and visit to relive the memories!
For more details, please reach out to our wedding coordinator, Lofton Morley lofton.morley@hartlinggroup.com.